Update 5/5/2019 --

TEN YEARS after I wrote the original post and it's still helping people!

I love your feedback this time of year and I read every single one. It reminds me that spring is on the way and in another month I'll be out mowing like the rest of you.

FYI: I've been told that the adjustment nut is on the opposite side on many newer tractors but otherwise, the work is the same. Have fun.

Update 5/8/2011 --

If this posting doesn't solve the problem, the brake may be frozen and need a rebuild. It's not hard. I've added instructions at this link: How-to Followup - the Brake Assembly Rebuild
-- Andrew
---
I'm writing this because nobody else seems to have done so. I searched on the net a few times and didn't find these instructions, which seemed odd because it is so easy to do. So, now Google will pick this up and some other person may save an hour or two figuring it out for themselves.
I am the disappointed owner of a John Deere L100 42" Lawn Tractor. It's not that it's a bad machine, just that it's not a particularly good one either. The L100 is what you get when John Deere cheapens its cheapest model so that it can be sold through Home Depot. Virtually everything that distinguishes a John Deere tractor from the lower end brands is missing from this unit other than the green color -- and that's plastic. Frankly, I liked the design of my old MTD mower much better, and when this one wears out I will go back to the cheaper MTD model and never look back.
That said, while I have this poorly designed model, I do need to keep it in as good a shape as I can. One of the things that seems to need adjustment now and then is the foot brake. After only a couple of years, mine had stopped working altogether. In fact, since the brake and clutch are on the same peddle, pressing the non-functional brake pedal had the effect of disengaging the clutch and thus allowing the tractor to simply coast down hills at an increased speed. Yes, pressing the brake did in fact result in going faster.
After searching the owner's manual (ha!) and the internet, I found not a single description of how to adjust the brake. I spent an hour or so figuring it out, and now you won't have to.
The photo below is taken on the right (facing forward) side of the mower, looking backward toward the rear axle.
(** On newer mowers, it is often on the opposite side **)
The brake is just forward of the axle on that right side. The nut you see in the center of the picture is easily tightened with a 1/2 inch box wrench. You do not need to remove the wheel to reach it.
Sadly, the difference between no brakes at all, mediocre brakes that slow you to a stop but won't really stop you on a steep hill, and brakes that grab all the time -- thus producing smoke, fire, and other sorts of danger -- is only about two full turns of that nut. You'll need to tighten it a little at a time then test it. Keep doing that until you've got right. Carry the 1/2 inch box wrench with you so that if you over tighten it and start to smell the brake liner while you're riding around, you can stop on the spot and let off a little bit.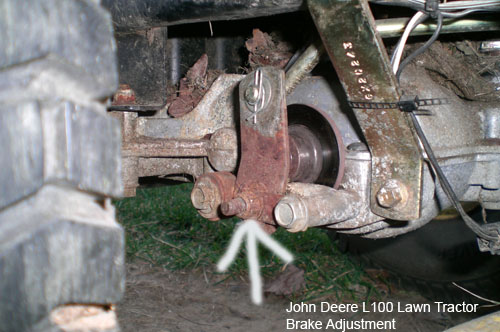 Have fun and be careful. Keep in mind that I'm not an "authorized John Deere mechanic" and have no particular expertise that should make me worth listening to. If you follow my advice and brake something, you own all the broken parts. If you don't know what you're doing, take it to someone and pay them to do it.

If you found this helpful, or if you have advice to add -- please comment below.
---
Update 4/11/2015 --
Wow. Six years after I wrote the original post and it's still helping people! I love your feedback this time of year. It reminds me that spring is on the way and in another month I'll be out mowing like the rest of you.

FYI: I've been told that the adjustment nut is on the opposite side on many newer tractors but otherwise, the work is the same. Have fun.

---
Update 5/8/2011 --
I decided to update this post with a follow-up that covers a more complete rebuild of the brake assembly. You still need this part for the adjustment, but if you want to go further, take a look here: How-to Followup - the Brake Assembly Rebuild -- Andrew
---