This is for all of you out there new to IBM Lotus Notes & Domino. Our community is all about collaboration. Not just the software, but the people as well. If you're reading this on my own site, you're probably already dialed in at least a little bit. The community is bigger than you might think. The more you hook in with the community, the better you'll be able to do do your own stuff.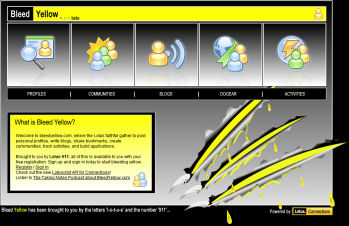 Its time to take the next step. The guys over at Lotus 9-1-1 have put up a couple of resources that have been well adopted and you should check them out. They call the project "Bleed Yellow".

To get set up, first go to http://www.BleedYellow.com and establish an account. It's free and just takes a minute or two. That gives you access to a Lotus Connections server.

Once you've got that set up, you can set you your Lotus Sametime Connect client or your Lotus Notes client to connect to the Sametime server. The Sametime server is reference as "IM.Bleedyellow.com" -- you may need to set Sametime or Notes to connect to it using HTTP (Port 80) but it can also handle its native port 1533.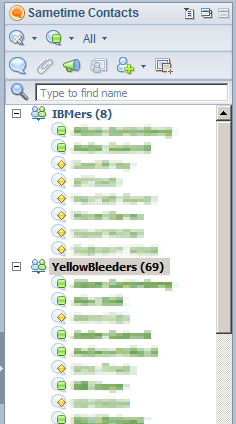 So you're connected to Sametime now, but you don't see anyone? Add two groups to your Sametime community. "YellowBleeders" and "IBMers". It's Saturday afternoon and I can see something like 70 people online as I write this.
Some Quick IM Etiquette
Being connected to the rest of us is a good thing, but its a not quite the same as the connections you have on Skype and AIM. The people on this list haven't individually given you permission to just jump in and start bugging them. On the other hand, they have given you permission to politely start a conversation if you'd like. There's a difference.

Some of the people you'll be connected to work at IBM. Others are well known consultants and public speakers. That doesn't mean they're on this community IM tool to provide you support. Treat them as colleagues and you'll get the same in return.