Here's a cautionary story, with my personal suggestion that you stay away from any service offered by "PayAnywhere.com" or "North American Bankcard" or "PhoneSwipe.com".

I'm documenting this, as I told them I would, so that when other people search for information about them, they can be a bit more informed. This is my story of interacting them. I'm sure other people have had other experiences.

Over the summer, I decided to drop my previous credit card processing service and try a company called "PayAnywhere.com". They have what seemed like a much better deal for me, because rather than a monthly fee plus transaction fees, they offer a simple pay as you go plan entirely based on the transactions you process. Since I process very few transactions, this sounded ideal.

I signed up on-line and they sent me a mag stripe reader for my phone. Fast forward a few months when a client tried to pay in invoice of just under $2500 by credit card. That's where the trouble started.

Everything seemed fine at first. I processed the card, received an "Approved" response and an approval code, issued a receipt and thought I was done. I even got an email saying "Congratulations on completing your first sales transaction with PayAnywhere!"

I was wrong. Two days later I received an email from "North American Bankcard" asking for a copy of the invoice, three months of bank statements, and a complete description of my business model. They indicated that "A 100% funding hold has been placed on the account".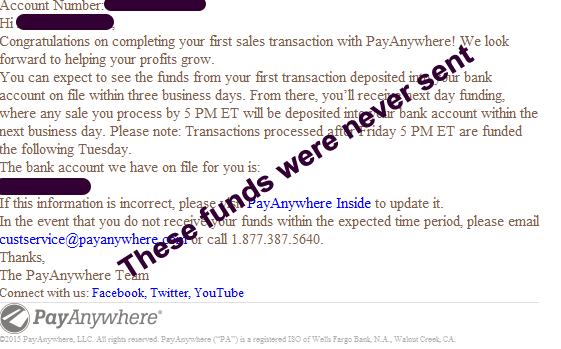 Essentially, even though they had authorized the transaction, there were not willing to transfer the funds. I spent a few days jumping through their hoops and providing information and ultimately was told the only way they would fund this transaction was if they first held it for 90 days. They did not, of course, offer to pay me credit card level interest rates during that time. My only other option was to process a refund on that transaction and bill the customer another way.

I asked the person on the phone, "What if this was a retail transaction and a customer off the street had bought a laptop or something? How would I expect to go and find that person and either take back the purchase or bill them another way?" They had no answer. I said, "So you approved the transaction, issued the approval code, and then decided not to pay it?" Again, no real answer to that other than "I understand your frustration."

What I decided to do was refund the transaction to the customer – who fortunately is someone I know personally – and switch back to a more reliable, trusted processor. I'll re-submit the transaction once I've finished switching and also have verified that the customer received the refund.

I've had other credit card processers in the past, I have a near perfect credit rating, and I have more than enough funds in my accounts to cover any theoretical refunds. There is simply no acceptable reason for this.

The only thing the people at this company have to say in their defense is that they claim to have sent an email at the start when I signed up indicating that initially they set a very low maximum transaction amount on the account until you go through their audit process. An email. Seriously? I never saw any such email. If they sent it, it went to spam folders. That's possible, since they seem to be such a mix of names. I never know if I'm communicating with "PayAnywhere.com" or "nabankcard.com" or "AccountAwareness.com" or "phoneswipe.com". I had never heard of any of those until running into this nonsense. Regardless, email is not a professional way to communicate things like this at all – and certainly not email domains unrelated to the company you signed up for.