Overview
While at The View conference in Boston, on the recommendation of Chris Miller I took at close look at the Savi Office wireless headset from Plantronics at the display booth. What I was looking for was a good wireless headset that had better range and quality than the various Bluetooth devices I've tried. The representative from Plantronics and I had an interesting conversation about the future of various VoIP products, after which he decided to give me his demo display model to try out and hopefully write up here on the blog site. This is an expensive piece of kit, and it is important that you know as you read my review that this was a free item to me.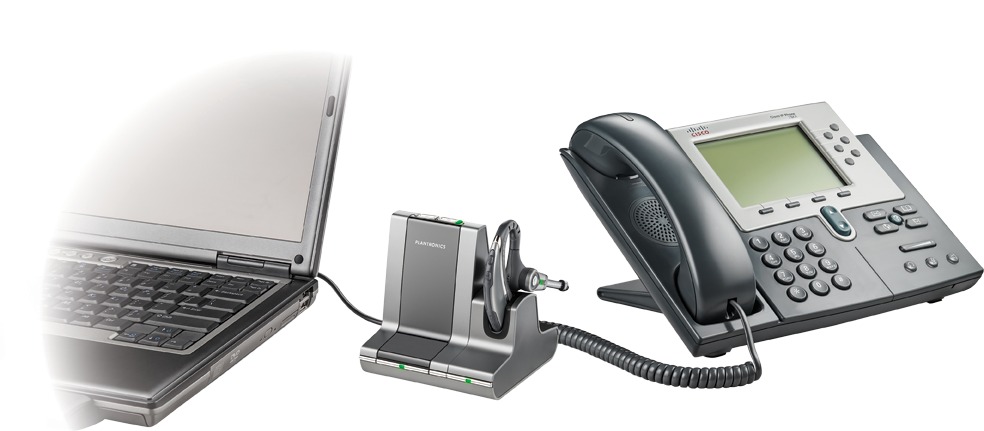 What it does
The Savi Office wireless headset line comes in a few different configurations, but the variation is about how you prefer to wear it, rather than function. Once you've got it installed –including the various add on parts (more on that later), the device works as a headset to both your desktop telephone and to your personal computer for whatever VoIP application you may be using – Skype, or something from Microsoft, Lotus Sametime, Cisco, etc. If you install the application that comes with the kit, you get some additional control, otherwise it acts as a USB headset to your PC. More interesting, it can act as the headset to both telephone and software at the same time – switching between them or even joining the call.

What's to like
First and foremost, the audio quality is excellent. It's a full duplex headset with a very comfortable sound and the DECT 6.0 radio connection is crystal clear for a fair distance. It's a digital connection, so degradation isn't graceful if you get too far, but as long as you're in range the sound is quite good.

Once the device is set up, using it is easy enough. You can answer and hang up with an easy button push on the ear piece and it seems to properly choose between the telephone and Skype. Battery life is sufficient, and the charge cradle is reasonable and secure.

What's not to like
There are three two things I don't like about the Savi Office wireless headset. First and foremost is the lack of a mute button on the headset itself or even the base unit if you happen to be at your desk. Clearly the expectation is that you'll use the mute button on the telephone or VoIP application. This is a serious flaw if you, like me, tend to walk around while you're on a conference call. There is a mute function, I just wasn't aware of it. See comments below.

The second two things are related, and they're not about the technology once it is in use but rather how much time, effort, and cost it took to get set up properly. The basic unit itself is $375. Yep, just for a headset. That seems very high to me. If you use the headset like that out of the box, you have to hook the handset wire to the base unit, and another wire to the handset – and lift the handset off the phone cradle in addition to clicking the headset button any time you want to use the headset with the telephone. Plantronics sells a "handset lifter" to do this for you when you turn on the headset. They charge around $80 for this. If your phone has a direct headset port – most business phone systems from Avaya, Cisco, Polycom, etc. will have this – then you can order a connector cable from Plantronics. This cable also costs about $80 and is specific to the kind of phone you've got.

The overall result is that the way this is packaged and sold, you need to be aware of what phone you'll be using before you buy the Savi Office wireless headset – and you'll need to make sure you can get the appropriate cable. You'll also need to plan to spend the extra $80.

My own setup difficulties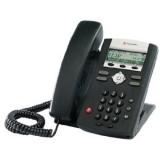 I have a Polycom IP321 desktop phone. It's a VoIP phone suitable for an office worker where VoIP is used throughout the company, though it is a fairly low end model. It has an external headset control port and it has a headset sound jack on the side. I was given the $80 cable that should connect the Savi Office wireless headset to the Polycom phone so that should have been it. It wasn't.

My Polycom has a cell-phone style headset sound jack rather than the typical business phone RJ9 headset sound jack. The manual for the connection cable from Plantronics indicates that this phone requires an adapter cable available from Polycom. While Polycom does offer a similar cable, it isn't quite the right one, as theirs has a male RJ9 connector which is also what the Plantronics connector cable has. Another adapter would be required. There aren't many of these adapters to be found.

Rather than order the cable (which Polycom sells only through resellers in bags of 5) and go looking for another adapter, I tore apart some old telephone gear I had laying around and got out the soldering iron and just made my own. I don't recommend that as a solution for most people.

Recommendation
Overall, the Savi Office wireless headset is a quality product with excellent sound. It's expensive, however, and clearly built with the cubical worker in mind. Lacking a mute button and expecting to leave the handset off the phone, the assumption is that the user of this headset will rely almost exclusively on it rather than switching between headset and handset on a regular basis, and that the wearer will be at his or her desk most of the time. That begs the question, of course, "why wireless?"

Expect to spend about $450* per user if you want to deploy these with the full telephone handset controls in place, and make sure you research the cable properly to make sure your set up is compatible. I don't think that's a problem if you're planning to buy dozens of them at a time for a cube farm full of telemarketers or customer service representatives; but as a one-off it can be a bit tedious and is expensive.
* Pricing listed is MSRP. I'm told you can find these cheaper on the web at the usual places.

I must say, even with the compatibility issues and price, this is a very nice headset and very comfortable to use. If you're serious about having top notch gear for your phone calls, you could definitely do worse.