Second Signal honored by IBM

Second Signal has been named as a Finalist for "Best Industry Solution" in the 2008 Beacon Awards!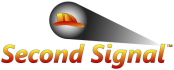 Second Signal is helping save lives and property by improving response to emergencies by fire departments.

Find out more

---
"This is the third time I've been recognized by IBM as a finalist or winner in these prestigious annual awards. This kind of consistent industry recognition is a huge achievement for any sized consulting organization, and an even bigger one for a small one like ours."
Andrew Pollack, President of NCT