Time for a rant. Both Vonage and FedEx have surpassed themselves over the last couple of weeks in terms of shockingly bad support. Vonage, thankfully, I'm nearly through with as I'm in the process of transferring ownership of my numbers elsewhere (to connect.voicepulse.com) but FedEx I continue to have to deal with periodically.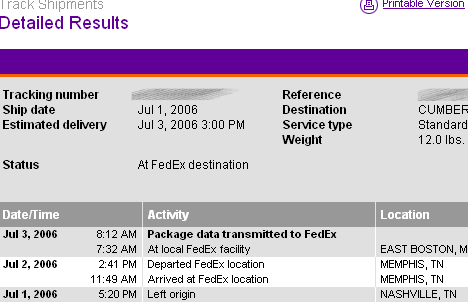 First FedEx. It seems that paying the extra 60 dollars for overnight shipping to Dell didn't actually get FedEx to ship overnight. Maybe. You see I can't tell. If I track the package at FedEx's website, it clearly indicates that overnight shipping was on the order, and that they received the package on the first. When I called to ask why the package was still in Boston, the idiot on the phone said that in her system she shows the package as regular freight, and not schedule for delivery until the 5th. Now, as you can imagine I asked this moron how it was possible that I could be looking at the FedEx site and see the package in all details correct -- including weight and address, and have it listed as "Standard Overnight" while she claimed to be looking at a system that indicates it is not overnight at all.

* I should note here, that Dell -- who I am perfectly happy with already, and who has shipped ahead of schedule anyway, agreed that FedEx did not handle the package as they should have. They said since they "shipped" from Dell on the 30th, I should have had it already. In addition, he's requested that FedEx expedite the package to me, and that I should have it today. Also, regardless of me getting it today or Wednesday, they've credited the overnight shipping back to my account. You people who claim problems with Dell customer service don't seem to have the same people to talk to that I do.

Then we get to Vonage. First, on the 22nd Barbara calls my cell phone to tell me she can't call my office number. After 45 minutes I got through to a Vonage person who actually acknowledged that this was the case. The first two towering intellects I spoke with claimed to be able to call it just fine. I found out later they were calling from another Vonage line -- so it was an internal call. The response from the top tier tech guy was "oh, yeah, its not working. I'll put in a ticket then. Thank you for calling." When pressed, he admitted that this would in fact cause them to take further action, and that I should expect them to be able to route calls to me within 24 hours. Yesterday, I tried to receive a fax and found that the fax number had the same problem. Try as I might, I could not get past the first idiot's tech support diagnostic tree. Perhaps if I could speak Urdu or Punjab this would have gone faster. "Yes, it was plugged in. No, I'm not going to tell you about my network. I'm calling you using the Vonage device, if the network was broken <inside voice>YOU F****** MORON</inside voice> we wouldn't be having this conversation." It went on like that for about 20 minutes until he finally put me on hold and (shock of shocks) tried calling the number. Finally, I was transferred to the people who actually know something (who, oddly enough, do not have the same accent). Yes, we'll create the (magic) ticket, and somehow that will cause the problem to be fixed within 24 hours. The song "I've got a golden ticket" from Charlie and the Chocolate Factory is going through my head. You see, it's not the tech support that helps. It's the ticket itself. Once you get the magic ticket, the problem goes away in 24 hours.

So I get up this morning and there is an email in my inbox indicating that 911 service to my new telephone number is installed. What? I didn't get a new number. Ah, but I did. The magic ticket did it. This time, to "fix" the fax number, they simply changed the number. After 30 minutes this morning, I have yet another golden ticket. This time, to find out when I'm going to get my fax number back, or who is going to pay for the stationary replacement. This is, after all, a business account.