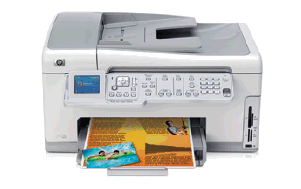 After finding my Epson printers to be complete garbage and essentially throw away items due to their very poor ink management (leaving clogged heads, wasted cartridges, and a bunch of money by the wayside) I decided to try an HP model this time around. After all, a good friend works there now.
http://h20195.www2.hp.com/V2/pdf/4AA0-4465EEE.pdf

The C6180 uses HP's newest ink technology with six individual color units which cost about $10 each at staples. They're not really large, but seem big enough to be comparable with much more expensive units from other vendors. Their design is simple and elegant, making them easy to replace as well. The six colors also lead me to believe that the photo printing will be outstanding.

I've used this machine for a week now, and here are my impressions:

This thing is fast. It's the fastest inkjet I've ever used. They claim as high as 30 pages per minute on high speed draft, and something like 8 pages at normal quality which is more important. This seems to hold true. This unit is good looking. The white high gloss finish would like ok even next to a fancy Apple monitor. A pop up LCD display makes using the menus fairly easy, and when combined with a joystick like device and a separate back button make using the menus extremely easy to deal with. Paper capacity is small, I can see having to reload more frequently than I like, however a distinct tray for photo paper means you can leave the photo paper available if you do that a lot. I don't, so rather than letting it spoil I'll load as needed. It doesn't have an envelope feed from what I can tell, though I haven't looked too hard.

As far as features, it has everything you'd expect -- memory card readers, flat-bed scanner, etc. There are few notable features though. My favorites are the 25 sheet feeder which serves both the fax and the scanner, while at the same time the whole unit can come off to scan something larger on the flat bed if just raising the lid isn't enough.

Oh, and not only is this thing network ready -- it is WIFI ready! It can take a USB connection, an ethernet cable, or it can connect to your WIFI network and just sit wherever you want it to! I love that.

A nice surprise has been HP's software. Usually the excessive software vendors load on your PC just annoys me, but HP's is really turning out to be nice. This afternoon I went to fax something so I put the sheets on the sheet feeder and before I could start putting the number in, HP's menu came up on my screen. It was just as easy to key in the detail there and hit send -- the software even offered to insert a fax cover page for me -- but at the same time I added the destination to my address book for the future. Sweet! From that same point I could have scanned the multipage document and move it through the OCR software into a word document or whatever.

It works the other way as well. When I put something on the sheet feed, a menu on the LCD panel offers to scan it and send it to my PC automatically as one of several kinds of documents from Office to Paint Shop Pro. The integration seems to really make a lot of sense the way they've done it.

So far, HP, I'm very impressed.