For the last couple of weeks, when CNN is on I've been noticing that the anchor women seem to be uncomfortably staring into the camera from strange angles when their co-host is talking.

I realized this morning that its because they've switched from sitting behind anchor desks to sitting on a couch in what is meant to look like a living room style set. It's not working for me. They assume these strange poses that you'd never really see if you were talking with someone in your living room. Some of the women are better at making this look normal than others -- but overall it's awkward.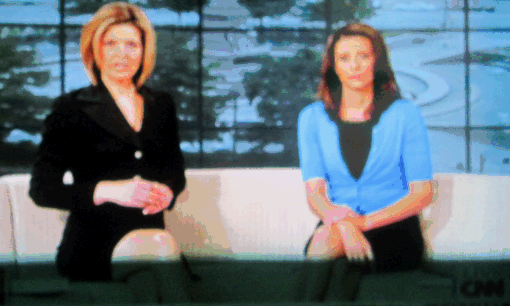 The whole set puts them in a position of being on camera for long periods where they're not talking, but without the visual aid of a desk or papers or anything else to be giving their attention to. They end up looking deeply into the camera, sitting at a slight angle with back straight in a sort of weirdly provocative pose. The lack of a desk also means the length and position of their skirts is obvious (and of course their wardrobe consultants choose short skirts rather than pants suits, so that we see as much of the thigh as their dare to show on t.v.) and again there is a vicarious discomfort as you watch them trying to make this all look natural.

If I want to look at women's legs, there are other venues for that - I don't need it to be CNN. I don't need my morning news casters to be improbably beautiful women dressed in provocative clothing. I'd like them to intelligent and able to provide thoughtful commentary. I'd like them to be skilled and smooth at reading their tele-prompters and interacting with the producers in their ear pieces in a smooth and professional way. I'd like them to be interesting, not mildly titillating.

These two women are both fine news anchors, and no doubt many of the best news casters are also very attractive people -- but seriously, is CNN missing out on some really great people because they don't look good on TV in a miniskirt? Are they putting these professionals in the uncomfortable position of being on display personally when they're really there to talk about the news?

I think this move is a step backward. The living room set, as it is now, is an uncomfortable distraction.