I saw over the shoulder of an IBMer today that his workspace was much nicer looking. I wasn't peaking at what he was doing, just happened to be sitting behind and to the side and it caught my eye. I asked him about it, to see if this was a "what's next" kind of thing on a private build. "No," he said, "it just turned on like that one day in the Beta." We spoke a bit, showed Maureen, and eventually one of them suggested it could be related to the use of "Textured Workspace". His was turned off and mine was turned on.

I tried it, and behold -- if you turn OFF textured workspace (File - Preferences - Basic Notes Client Preferences) your workspace looks much better. Mouse-over highlights databases, and the current selected database is distinguished clearly.

For me, using Workspace has meant using the "Textured" workspace option since it came out something like what, 15 years ago? I haven't looked at Workspace any other way in all that time.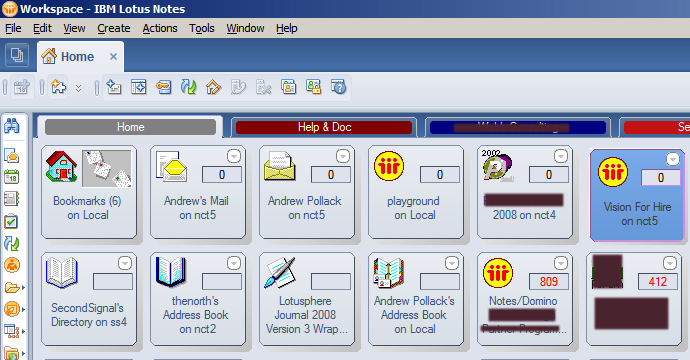 Take a look at this screen shot, which doesn't really do it justice but gives you a taste of what's different.