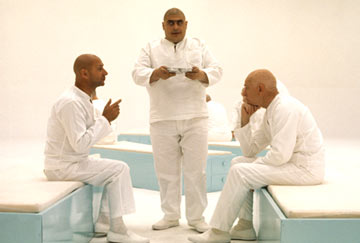 Someone I know was recently talking about a paper that could potentially explain a pretty huge annual savings by saving each of thousands of employees a moment or two each day. I personally don't put much credence in these kinds of savings unless we're talking about people who are essentially a fully utilized resource pool like a call center or production line worker and then only if the time savings happens during their core productive time and not on breaks or as they're getting started. In that case, the activity is largely repetitive and thus any savings is likely to be multiplied a great deal which would save much more than a few moments a day. Further, the savings has to happen at a time when nothing else productive can possibly be happening.
For the rest of us, trying to put a yearly dollar value on say one minute of savings per day seems disingenuous at best. It makes the assumption that every minute you're on the clock is as valuable as every other and that minutes you're not on the clock have no value to the company. These are both fallacious assumptions. Most people are paid their wage based on the overall value they bring to the company over the calendar period the wage is paid. Even the least dedicated employee does not banish all thought of work when not working any more than any of us banishes all thought of home and hobbies when we enter the office.

When the addition was put on my house a few years ago, the work was managed and largely done by two brothers who are in their....late middle ages. At any given moment you'd look at them and wonder how much money you're wasting while they drink coffee and chat with subcontractors and so on. What was really happening was that the experience they bring to the job was so vast that the time spent wasn't being wasted at all -- it was essential to the process. The discussions, which would range from details of the job to home life and kids smoothed things along to such an extent that the when the tools did come out an entire day worth of physical work could happen in just a couple of hours. Their efficiency as well as their apparent inefficiency combined to allow them to do the job the way they enjoyed and the way it made sense to them. As a result, the job was completed on time and the work was phenomenal. In fact, when one of the two brothers was planning to do some stairs, other contractors from the area would come by just to watch how he did it, such is his reputation for that skill. What would the result had been if some efficiency model had been applied and suggested they completely change the things they do? If someone added all that apparent "wasted" time and subtracted that portion from their "cost" of doing the job. I'll tell you what would have happened. The person espousing such nonsense would at best find himself the target of laughter and at worst of a thrown hammer.

Be careful applying fallacious math based on declaration of unproven savings. For me, anyway, it causes me to toss such white papers in the trash as utter fiction.