Do you see anything wrong with this?

I'll give you a hint: The server accepts mail for three of the four listed domains just fine. The fourth one fails.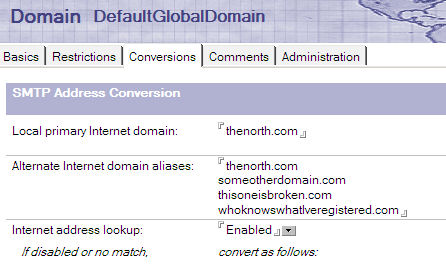 Why does it fail? Because there is a SPACE character after the end of the the domain "thisoneisbroken.com "

Unlike the "Members" field on the "Group" form, which has a translation formula as so: @Trim(@Unique(Members))

The "LocalInternetDomainAliases" field on the "Domain" form has no translation formula. If you have a space there (from copying a domain name for example) it will be kept as part of the string. As a result, your SMTP server will bounce mail sent to that domain while you spend hours looking for why.

Have a nice day.