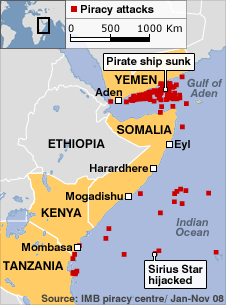 All the recent reports of stepped up piracy in the Gulf of Aden and the Indian Ocean leave me thinking these guys have pushed their luck just a step too far. They're collecting multi-million dollar ransoms from some of these ships, and have recently hit to very high profile targets. They may have crossed that invisible line that finally brings an end to easy pickings.

Even as many of the worlds navies are saying the area is simply too large to patrol, I have to think that the stakes have been raised to the point where some decisive changes will be made. The problem of patrols is only half the story. The other half is that if you were to catch these pirates and you are a legitimate navy, you now have to do something with them. If you simply killed them at sea, the world opinion would fall against you quickly. The pirates are apparently small groups of individuals going out in barely seaworthy boats with just enough scrounged weaponry to make the difference against a small and lightly armed ship's crew. There must be some organization behind them somewhere, or they'd have no way to deal with the large sums of money involved. That organization is probably several steps removed from those doing the dirty work.

With the size and frequency of the ransoms reportedly being paid, however, the game will soon change. It clearly starts to make economic sense for the shipping owners -- a very small number of very large companies -- to hire their own armed escort as they make this passage. Balanced against a multi-million dollar ransom and delays in delivery costing millions of dollars themselves, the cost of a couple of dozen heavily armed men boarding as you enter the area and leaving as you clear it starts to makes very good sense. Imagine these teams riding back and forth on the ships going both directions through the area. Someone with an entreprenurial sense could simply station "staging" vessels at either end of the shipping lanes through the area so that armed crews could be swapped on for the duration of travel. These people, operating in international waters and under the moral protection of self-defense would have very little accountability and almost no incentive to spare the lives of any would be attacker.

The days when fighting piracy required "capitol" ships and cannon that were available only at great cost to the biggest navies in the world are long gone. Paying a large security company for the use of a few dozen heavily armed men is a relatively easy transaction and with a cost lower than these ransoms and insurance losses. If the leading nations of the world do not begin to seriously patrol that area and curtail this problem very quickly, its going to be a blood bath.