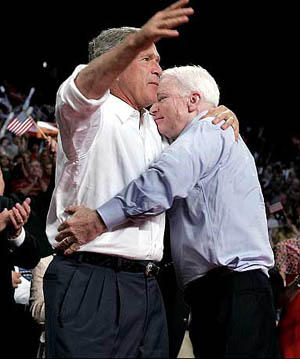 Here's a test: Watch any McCain speech from the last few weeks, and count how much time is spent talking about McCain's plans, McCain's ideas, and McCain's beliefs while also counting how much time is spent talking about Obama.

I'm starting to forget why I ever liked this guy. He seems to have pretty much abandoned any attempt to manage his campaign toward a discussion of ideas at this point. I'm seeing his stump speeches devolve into little more than name calling and character bashing. The thing is, he's not even very good at it. He stands up there like a cardboard cutout and tries to toss out these prepared "zingers" that someone is clearly feeding him. That not what he's good at. He's not a prepared zinger kind of guy. That takes real acting and comedic timing.

When McCain used to speak, he did it off the cuff and with real intelligence and zeal. He spoke about things he knew and cared about and pretty much ignored everything else. He used to be respectful of his opponents, sharp witted, and knowledgeable. Now he's become something of a cliche. What a terrible shame for a man with such a long record of service to devolve so terribly in what is probably his final campaign.