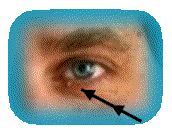 I went to the eye doctor today and had the growth removed from my lower left eyelid before it could finish growing into my evil twin. When I planned the appointment for the 22nd of December, I hadn't considered that it would mean I shall probably have a pretty good shiner when I go to my in-laws for Christmas. Since for the next couple of weeks, the scab takes the place of the growth and looks mostly the same, nobody is likely to notice the difference. I think I'll just tell everyone that Barbara beat the crap out of me.
An Interesting (well, to me, and its my blog) side note -- when I went to make that picture by cropping out the eye from a regular still photograph, it was backwards. I mean, I know mirrors reflect things and we always see ourselves in mirrors inverse to what we really look like. That's one reason most of us hate looking at pictures of ourselves -- they don't match our self image in some very subtle ways because that self image comes from mirrors. Anyway, knowing this is one thing. Going to a picture of yourself and finding a feature unique to one eye to be on the "wrong side" in a picture is REALLY weird.

And yes, I'm probably violating HIPAA by posting something remotely medical about a specific person even if it has to do with myself.