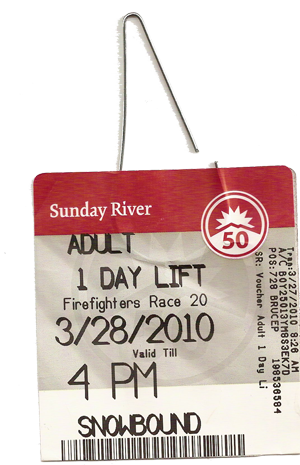 Today I participated in a ski race to raise money for some nearby departments as well as Maine Handicapped Skiing. This involved taking 5 guys (one of which was me) who haven't skied together before, dressed in their fire department turnout gear, carrying a 50' hose line, down a slalom course. It's harder than you might think -- if you go faster than the guy ahead, you'll run over the hose line and that's not good. If you go too slow, you'll get a crack-the-whip effect, and either drag down the guy ahead (if you're heavier) or get flung forward in whatever direction the guy ahead of you is skiing (if the guy ahead of you is, say, me).

Pictures.... and unfortunately some video....should be available later in the week. In the mean time, their web page has highlights from last year if you want to take a look at what it was all about.

Firefighters Eat the Heat - Chili Cook-Off and Ski Race

We did not win, but we had an awesome time.