Last week, I moved Ari's laptop from Vista to Windows 7. That was a no-brainer, because Vista sucked. Her upgrade went very well, and I was impressed enough to try it out on my own laptop -- a much more demanding environment. By living with it on my laptop for a while, I'll know if the next laptop can be a PC or will need to be a Mac.

First, before you do what I did you should be aware that current versions of Notes are not officially supported on Windows 7 (which can't happen until it is released and the release version is sent through QA). That said, I'm running 8.5.1 and not seeing any issues related to the OS.

The verdict: I like it. From what I've experienced so far, Windows 7 is a better environment to work in than Windows XP in almost every respect.

What makes Windows 7 better?

User Experience: Visually, Win7 is much better looking than both XP and Vista. The first thing most users should do is switch to one of the built in "Aero" based themes. These require a bit more of a graphics card but nobody reading this article is likely to have one that isn't good enough. The big UI issues with Vista are fixed Win7. The experience feels more fully integrated and all the parts are working together now. My one complaint on the UI side is that it relies a bit heavily on "wizards" and that can make getting to what's underneath a bit tedious at first if you're so inclined. Font and graphics scaling -- for those of us with high resolution monitors and low resolution eyes -- is far better than XP (I never tried it with Vista, so I can't compare it there).

Performance: There are a few changes to Win7 related to performance. The most important one for most people will be improvements in the TCP/IP stack. Like Vista, and continuing the improvements there, Win7 doesn't need to be tweaked for a larger TCP window size based on the bandwidth of your WAN connection, it doesn't need settings for MTU discovery and related items touched at all. The only down side may be that it's more sensitive to MTU configuration mistakes made on your own WAN router. I found performance to stutter and stop then restart quite a bit until I set that down from 1500 to 1492 where it should have been. To me, this is an indication of Windows making more full use of the available packet bandwidth.

Of huge value to some of us -- and more of you sooner than you may think -- is that Windows 7 will, by default, reset the "in use" flag on sectors of all hard disks. This is a command given directly to the drive's controller where it is supported. Drives which don't support this will just ignore it or send an error back to the OS which will be ignored. Drives which do support it can use this flag in different ways. This is critical for Flash drives (SSD's). When you delete a file on an SSD, Win7 sends this "TRIM" command to the drive which resets the blocks to 'unused'. When writing to unused blocks on an SSD, performance is many times better than when it writes to a blocked marked "in use". Blocks marked "in use" have to be read in their entirety, then re-written with the old and new data. That's why SSD write performance degrades so terribly. With Win7, you can get your performance back. One simple way to get get back to good, would be to copy a bunch of stuff onto the drive and fill it up (it would be faster to just use a programming language to create a new file, seek to a byte location equal to just below the size of the free space on the drive, write one byte, and save the file) then delete the copied or created files. This will trigger windows to send "TRIM" commands to the drive after the delete and now the drive will know those blocks aren't really in use. Of course, if the drive is pretty empty you could just copy stuff off it and reformat then copy the stuff back. Your call.

Organization: Win7 moves some things around when compared to XP. Some of these are already moved in Vista -- for example, what used to be "/Documents and Settings/" is now "/users/" -- much more sensible,and not hidden (still protected). Within that folder, you find Desktop, Documents, Downloads, Favorites, Music, Links, Pictures, Videos, and Saved Games. That means downloads, music, pictures, etc.. are no longer stuffed into the old "My Documents" folder. When you move over from XP, you may want to move your stuff around. Windows 7 does come with "Windows Easy Transfer" which should help with that process if you want to try it. I didn't try it, but I may yet (when I move over the workstation). More interesting is the new "Libraries" mechanism. Think of Libraries as a shortcuts folder of links to other other places. What makes them useful, is that they're a built in part of the explorer and all the common dialog boxes for files -- which means you can put the common places you put "things" into these libraries and get access to them quickly. I think there is a lot more they can do that I just haven't found yet.

Manageability & Tools: Win7 updates the tool box in some great ways. One of my favorites is the new "Resource Manager". If you want to know what's going on with your system, this tool probably has the information. In particular, the Disk and Network tabs are an absolute wealth of information when it comes to tracking down resource usage. It's like having "Task Manager" combined with "Process Explorer" and a few other of my favorites all in one.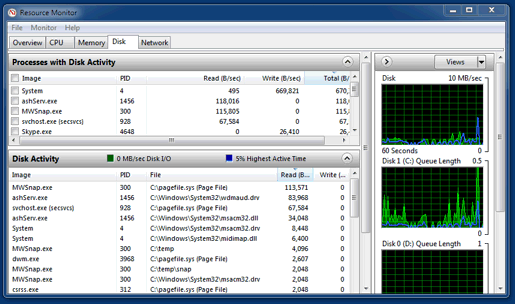 It also comes with a very good defrag tool that is on by default (make sure you turn it off for SSD's) and a number of other great tools. Even the basic calculator is not just improved, but actually really useful. This mode is for doing calculations in Decimal, Hex, Octal, Binary, etc. It's called "Programmers" mode. The calculator also has scientific and statistical modes, while the conversion window also handles calculating the difference between dates in years, months, weeks, and days -- and total days.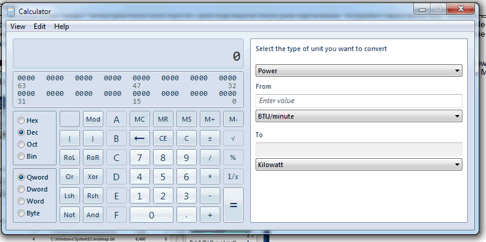 Driver Support: The availability of drivers for all your stuff is much better -- the driver model problem under Vista has matured, and that same model is carried forward into Windows 7. While not all the hardware vendors have published updates that say they're ready for Windows 7, most of them are. Some of them have installers that will need to be updated, I've got no unsupported devices. The most difficult was my laptop's touchpad. Though the pad worked, it didn't have the touch spot or side scroll features. Dell didn't post a new driver for my old D820, but I went to the drivers list for a newer Dell laptop and grabbed it's driver for the same Alps touchpad and got back both of those features (and some additional gestures).

Internal Security: Although Win7 shares with Vista the need to "protect" you (the owner of the machine) from a great many things, where Vista appears to actually fight you for control on a constant basis Win7 lays out the rules and lives by them. I'm not sure these rules are any different, but they seem to be most consistently applied. Most people shouldn't need to do this, but as a power user user when I've wanted to have the access to files that were hidden, system, or in some way "protected" from me, I'm able to use the explorer tool to "take ownership" of the files, the change the security settings of them to take "full control". That said, it wasn't simple to figure that out. I first had to go into the administrative tools and change the assigned rights for administrators to include the ability to take ownership and to act as part of the operating system. Being an Administrator in Win7 is not at all the same thing as "root" access on a unix system. In unix or linux based systems, everything -- every service, every device -- is a "file" and has a 'file handle" so nearly all the security is based on ownership and the rights a user has as the "owner", a member of the "group" that owns the file, or the default rights to that file. Windows has these roles as well, but also has a layer of security (similar, in a way, to the "SELINUX" overlay) that protects "functionality" rather than files. To work with that, you've got to dig into the "user rights" configuration which can be a bit hairy and if done wrong leaves you exposed to malware. The trick is to stay protected from bad things, but gain the power over the windows environment itself. For whatever reason, I found this easier to work with in Windows 7 than I did in Vista.