I'm trying something new next week as I head to Orlando for a few days. I'm leaving my laptop at home. I haven't travelled anywhere without a fully functioning laptop in twenty years but I'm going to do it next week. Instead, I'm just bringing a tablet...and some accessories.

My new Microsoft Surface Pro 2 is the size of a tablet, works like a tablet, looks like a tablet, and has all the power of a full sized laptop. It can run all my software and do all of the things my Thinkpad T510 can do without a problem, but can a tablet really replace a laptop?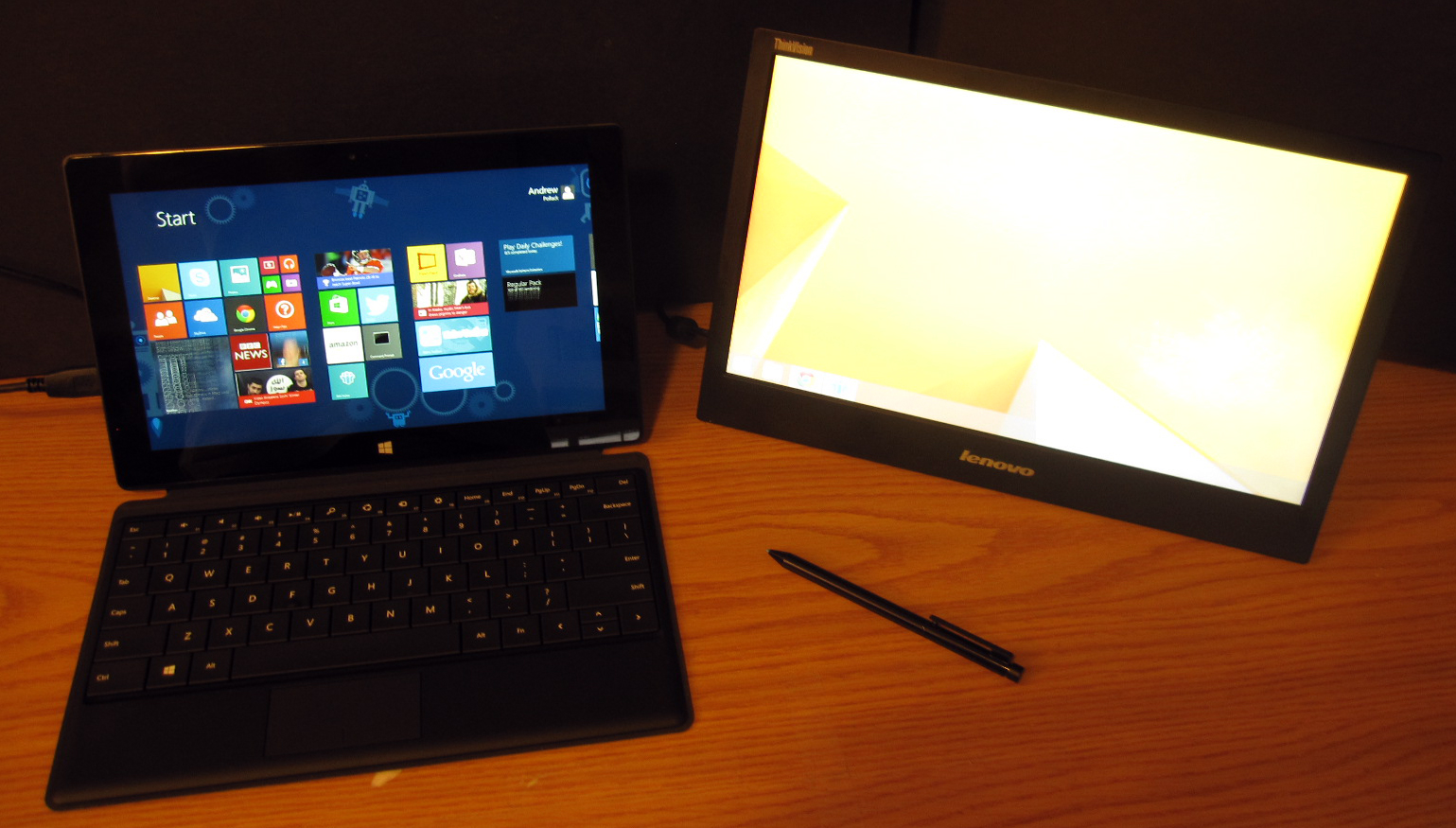 My biggest concern was the small screen. Could I really sit in a hotel room and work on anything like program code or a document on such a tiny screen? The answer, I hope, is the addition of this Lenovo 14" widescreen travel monitor. It's very thin, very light, and comes with a slide-on protective shell cover. Both power and connection are driven over a single USB cable.

The combination of external monitor, Surface Pro 2, snap-on keyboard, and the leather case I've bought to use with the tablet is just about half of what my fully loaded out Thinkpad T510 weighs. The new kit, in total, also takes up less space in the travel backpack. That seems like a win. Of course, I could have gone with an ultrabook, or a convertible like the Lenovo Yoga 2. I wanted something that was first a tablet, and second a laptop. The surface really fills that niche.

Impressions as a Tablet

As a tablet, the Surface Pro 2 is outstanding. Performance is snappy, battery life is excellent, and the touch screen is very responsive. Even the wacom compatible pen and digitizer is quite good. It was able to read my scrawled handwriting in both block and cursive as well as any person could. There are three negatives to consider with the Surface Pro 2 as a table. First, it's just a bit too heavy and thick to be as nice in your hands as the current products from either Apple or Samsung. Of course, both of those products are very limited in comparison, and I have very big hands so that's something I can work with. A good leather case helps a great deal as well. Second, the "Metro" interface of Windows 8.1 takes some serious getting used to. If you go through the help and learn a few things, it gets very easy pretty quickly but if you try to learn it without the help there are some things that are just not intuitive and you may never figure out. Third is the vastly smaller choice of available tablet "apps" in Microsoft's app store in comparison to IOS or Android. That is balanced somewhat by the huge availability of software that will run on the Surface Pro 2 as just plain Windows applications, but when you're using the machine as a tablet there is definitely an advantage to finding a metro app that does what you want. The good news here is that it's quite easy to make Metro interface front ends for things, so I expect this to improve rapidly.

Impressions as a Laptop

The Solid State Disk, 8GB of RAM, and the 4th generation Intel Core i5 processor really make this machine a powerhouse for doing work. You can run virtual machines on it, connect to your VPN, and run any software that your desktop runs. That's really cool for me. Being able to run some custom Windows software on my tablet is very freeing. The 10" screen,however, is just too tiny to use by itself for long hours of doing real work. Adding the external monitor should really help that situation though. The Microsoft snap-on keyboard is very tiny as well. I'll be looking for a good Bluetooth keyboard that's much larger and can travel well, along with a good quality travel mouse. For someone with big hands, that's going to be a requirement. The pen provided with the Surface Pro 2 has all the features you want but feels cheap. I've ordered a much nicer one from Wacom and will see how that works out.

Impressions Overall

Next week's trip will be a good test of whether I can leave the laptop at home, or if I should skip all the peripherals and just use the tablet as a tablet and bring along the laptop. Either way, the rest of the gear should be able to stay behind at the hotel, allowing me to go to client meetings or conferences carrying just the tablet itself in its nice leather case, a pad folio with a pen and business cards, and whatever paper files I need all in a small and professional looking satchel. I won't be dragging my giant laptop backpack with me like a college kid while wearing an expensive suit and trying to look like a grown up.

Wish me luck on this little experiment and if you see me in Orlando on Saturday, Sunday, or Monday morning -- say hi!