This particular line is the one preventing power getting to my place. Believe it or not, this is a "minor" issue in terms of the priority list right now.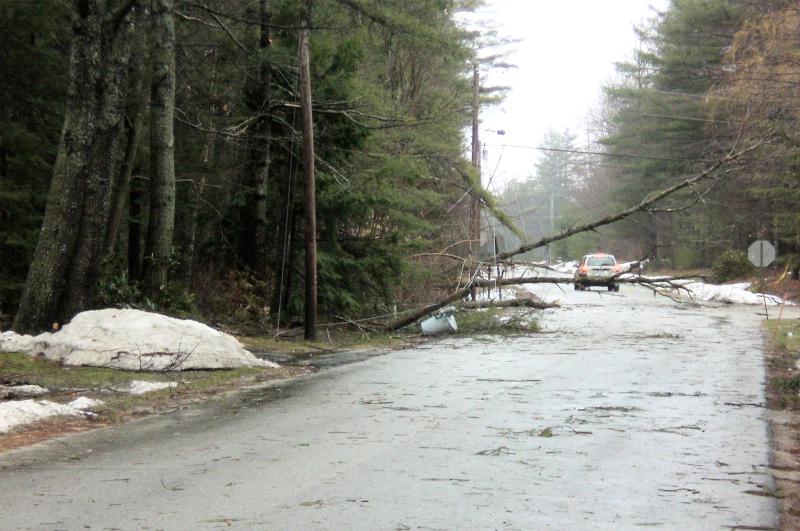 Some of you may know that I've spent the better part of the last two days on the fire truck due to the severe storm. If you hadn't heard that Maine was hit badly, it's not a shock. Even though at one point three quarters of the residents statewide had no power, we don't make the news much. Part of the issue seems to be that the weather maps used by CNN and the Weather Channel don't fit on the TV screens. I live in that part that is scrolled off the top. Once the storms get north of Boston they're considered "Gone". I'd beg to differ.

For most of Monday, nearly ever road in and out of town was washed out or closed. The "sort of" exception was Greely road, which was closed because half the power poles had been snapped off and the road was 50% overhung with power lines dangling. Only emergency services vehicles and those of us with special plates on our personal vehicles could pass -- carefully. For this reason, I had my crew with Engine 1 stationed out of a construction company garage on that end of town so we could respond to problems before there was nothing left but ashes. We slept and ate at the station for two days (very unusual for us).

In all, we responded to more than 80 calls including three out of town structure fires.

As I mentioned, my own home is running on the 12kw LP gas generator out back, and has been for two days. I have fuel coming tomorrow and can go about 10 days on a full tank. The kids are "suffering" through only being allowed to watch one tv at a time, not having a clothes dryer, and having to use the dishwasher without "heated dry" --- Ari commented that it was like survivor. Gack. I think she was joking.

Not spectacular shots, but I'm not Mary and was wearing bunker gear at the time.......click on any of these to see it larger.