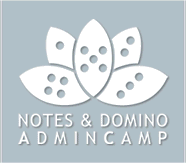 In the fall of 2008 I had the privilege of participating in the AdminCamp show in Gelsenkirchen, Germany.

The whole show was fantastic. If you ever get the chance, you should attend. The focus of the event is deeply technical, but no small amount of effort is paid to making sure that every attendee and every speaker is well fed and has a good time. I've never seen a show done better.

Confessions of a Penetration Tester
Andrew Pollack, 60 Minutes, Closing Session
Putting the best lock on a rusty chain isn't good security. This talk will focus on making smart security decisions overall, and how all the small choices you make have to work together to create a secure environment. Examples will be taken from real world experiences and customer penetration test findings. You may come away a bit scared, but you'll be thinking differently about security.


Domino Server & Application Performance in the Real World
Andrew Pollack, 90 Minutes, Track Session w/ Demo
Getting better performance from your Domino environment isn't just about hardware. There are dozens of small choices made in configuration, operating system, and application design strategy as well. The fastest hardware you can buy won't keep up if you make the wrong combination of choices, but even inexpensive hardware can handle a large application if you make the right ones. This session is based on real world performance overhaul recommendations I've made for clients. I'll talk about what was recommended, why, and what the results were. Some sites have reported up to four times more users per server without major design changes. Come learn how.