Several days ago a major announcement was made about a fundamental flaw in the DNS protocol -- one of the most important underlying bits of infrastructure that makes the internet possible. This is not a flaw in the implementation by any specific vendor. This is a fundamental flaw in the protocol itself so:

Nearly every single operating system and appliance that provides name service caching is susceptible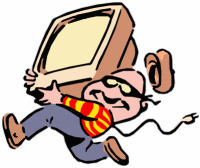 This Network World article has details, as does this CNET "D3F3NS3 1N D3PTH" feature. You'll find a lot about this if you do a search.

The announcement was made several days ago in time with a patch release by a very large number of vendors so that everyone could get updated quickly. The nature of the exploit is apparently such that the patches do not necessarily provide enough information to reverse engineer the exploit. As such, exploits of the security hole are so far not known to be taking place.

Dan Kaminsky from IOActive Inc. discovered the flaw and worked with vendors to get the patches in place before he releases all the details of the flaw. He plans to do that the week of August 2nd at the Black Hat conference in Las Vegas.

Once the full details are out there, if you haven't patched your DNS server yet you're going to be in tough shape.