You're not as connected as I am. If that's not true, you're a pretty unusually connected person. When I'm not in the office, I've used cellular tower based connections for several years. Originally it was just a cellular modem, then Verizon upgraded the network to "1xRTT" which gave speeds comparable to a dial-up line at home. EVDO came out and we boosted to the speed of a cheap DSL connection, and now with EVDO Rev A we can be connected almost anywhere with speeds nearly as good as any hotel or coffee shop wireless system.

It just got much, much better.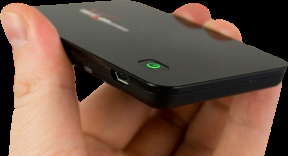 Verizon's "MiFi™2200 Intelligent Mobile Hotspot" is a WiFi router that you can carry in your shirt pocket. The best thing I can say about it is that it actually does everything it promises to do.

This little unit featres one button activation and no software to install. True, if you want to use it as a connected modem you could install the VZ Manager connection software -- you don't need to and won't want to. Left on its own, it acts just like the wifi router you use at home or at the office. You connect to it with a browser for configuration, set up you security and use it just like the one at home. It automatically connects to the cellular network and handles your traffic - just like you'd expect.

Details as follows:

Speed -- It outperforms the EVDO Rev A card I've had in my laptop for the last year or so. It feels like a good hotel wireless connection. It isn't my home network, but it's damn good. I can very easily watch my slingbox across it.

Reception -- Better than any cell phone or cellular modem I have. Better still, if you're in a hotel or meeting room where you can get signal by the window but not where you want to sit -- no problem. Just turn it on and set it by the window (or tape it right onto the window if you want). Let it connect from where it wants because you can sit across the room connected to it with WiFi.

Battery -- In practice, about 2-3 hours of connected time. Better news, is that the battery is user-replaceable. I picked up a spare that I keep charged and right near by. When you're not on battery, the charging port is the new micro-usb style connector so you can charge it from your laptop, from its charger, or from a ton of cheap after market usb chargers.

Muti-User -- Up to 5 connections are supported at the same time. That means everyone at the table if you're doing a quick coffee shop review before you go visit the client. It means your wife and you kid can share it on long road trip.

Multi-Device -- Because it's just WiFi, you can use it with anything that does WiFi. Your Nintendo DS, your iTouch, your laptop, your netbook -- and you don't have to pick which to take based on how you want to connect.

Cost -- A cellular connection monthly subscription may be expensive for you if you don't travel and don't use it much. At $50 a month, I save more than that on what I'd be paying for hotspot access and hotel room wireless charges. On top of that, I don't have to be near the hotspot or hotel room to use it.

Other Cool Uses:

One of the things I like most is using it with the eye-fi card in my digital camera. I can turn on this wifi router and drop it in my shirt pocket or backpack, then take my pictures where ever I want. The eye-fi card knows about the little router, and the pictures are up on my server, or Flickr or wherever I want -- almost instantly.

Bottom Line: This is that rare tech gadget that yo purchase and have no regrets about at all. It does exactly what it says, exactly as it says it will.