I thought for some fun on Friday, I'd come up with a new Persona (look how Agile I am). Ok, its a little bit tongue in cheek -- but I suspect there are a lot of people making decisions out there in the same way, even if they don't quite have Sally's unique experience. Then I thought I'd see if anyone else wanted to give it shot. So, introducing "New MEME Friday".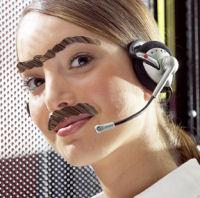 Allow me to introduce "Sally Stonehead":

Sally Stonehead is an IT Architect at RapidAdopters Inc., reporting to I.T. Director Anne Newthing. She is based in the Silicon Valley.
Sally has been working at RapidAdopters for 2 years and has been in the I.T. department for 3 months. Sally initially started her career at RapidAdopters working in the secretarial pool and answered harassing calls coming from RapidAdopters employees. A little over 3 months ago, Sally made a transition into the I.T. department (the result of a harassment lawsuit) and her responsibilities now include making all of the final purchase decisions on new I.T. enterprise platforms for RapidAdopters products and services.
Sally's Work
Sally has a number of responsibilities in her role as a IT Architect for RapidAdopters Inc.:
* Act as Team Lead in the Future Platforms group that assesses current needs and identifies possible products to buy for RapidAdopters, Inc.
* Coordinate pilot activities prior to the roll out of any enterprise architecture, using a representative group composed of 2 RapidAdopters mail-room interns.
* Evaluate scalability and end user satisfaction based on pilot data gathered from the test group.
Sally's complete lack of prior experience in the IT department allows her to make critical infrastructure decisions about her company's workflow, mail, CRM, and financial systems. At least, that is what the judge decided.
Tools
* Lotus Notes Client 6.5
* Mail, Calendar, Contacts. Sally makes use of Replication and Archiving in Notes. She has kept every email she has ever sent or received (that really helped with the lawsuit). She keeps local replica copies of her mail, calendar, contacts, and the entire RapidAdopters customer list and credit cards on her laptop "just in case".
* RapidAdopters has a policy prohibiting local Notes Database encryption by users, to prevent users from storing data on their workstations that cannot be viewed by management.
* Microsoft Office
* Acer Inspire Notebook with a 3ghz Celeron D processor, 60 gigabyte hard drive, and 512 megabytes of RAM.
* IE 6
* Apple iPhone
Sally's Project Goals
Sally is tired of using Notes. Her version 6.5 works fine, but its "kinda ugly". One of her fellow employees left their laptop in a Starbucks last week and it was stolen. They had to notify thousands of customers that their data was at risk. She wants to keep RapidAdopters at the forefront of new technology. To do that, she called both Microsoft and IBM.
So far, Microsoft called back right away, and explained that she could encrypt all her data using Bitlocker, and then her mail system wouldn't have to worry about encrypting anything. Also, by switching to Sharepoint, she would be using the hippest and coolest new thing. "Everyone's doing it." She liked Sharepoint, it was pretty. It ran really fast on that new server they brought in for it, and her new brand new Vista Laptop Microsoft gave her as her test machine is really pretty and fast. She's glad its secure now with that bitlocker thing. The whole set up sure does feel faster than her old Notes thing.
Sally also called IBM. They're going to come talk to her too. They're sending someone from Global Services. That sounds really important, and he said that she can run Exchange if she wants, but instead of Sharepoint, they want to show her their new Portal thing. They'll be coming by tomorrow. She asked them about her Notes 6.5 stuff because she heard they had a new version of it out. The guys from IBM were very friendly and they said they could upgrade her Notes, but she'd need to buy some new computers. She'll think about that, but it sounds expensive and she'll need it to look really pretty and run a lot faster if her boss is going to like it.