Ads. I hate them. They've taken over every inch of available screen real estate on websites, roadsides, tv, radio, and even people. I went looking for a tool to help block them at their source. I found exactly what I wanted. There are others out there, but so far "HostsMan" is my favorite.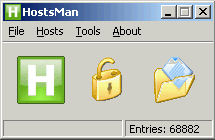 This tool is really simple. It downloads and updates from four open sourced lists of ad servers. These are the places that put those flash animations, tracking cookies, banner ads, and other such stuff onto the pages. They don't actually come from the site you're viewing. "HostsMan" takes advantage of that by creating "HOSTS" file entries for ALL of them. 68,000 of them at last count. The host file points all of these sites back to your own machine -- thus, they can't load.

A couple of other neat features with "HostsMan"are:

1. It allows you to change where the hosts file redirects the servers.
2. It has an optional mini http server which can listen on that port and respond with an error instead of having the browser time out on the loads. In theory, this is faster. In practice, it seems to be faster.

If you use this option, instead of just a dead space or broken link icon, for ads that are images (not flash) it will optionally replace the image with one indicating that it blocked an ad. That's kind of cool. You can even pick the fore and background color it uses for this.




It doesn't block EVERY banner ad. It does seem to block most of them -- and all the really nasty ones. It speeds up browsing massively because you're not downloading all those ads. I even went to one of the worst sites in my list of bad sites (F0rbes.com) and it left 36 blank spots on the page where ad content of one kind or another would have been. True, the page looks less attractive with the "image missing" icons showing up in those places -- but the content is all there and the ads are all gone.