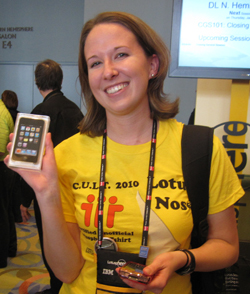 It was great fun producing the C.U.L.T. shirt this year again, and one of the best parts of my job doing that is awarding the prize.

This year, we moved the selection of the winner to just before the closing session. This gave people more time to get their shirts and also works better than having to wear just a t-shirt on the sometimes cold or wet nights of the Wednesday party. Somewhat ironically, this year was the best weather for that party I can ever remember -- but the plan was still better.

A few minutes before being allowed into the party, my spotter for this year was told to close her eyes, turn around, and when she opened them point to the first person she saw wearing this year's C.U.L.T. shirt. Karma being what it is, this year continued our trend of always seeming to pick really cool and highly deserving people -- even if we are doing it somewhat randomly. That's probably influenced by the high probability of anyone AT Lotusphere and wearing a C.U.L.T. shirt being inherently cool and deserving.

Congratulations to Abby, for winning this year's prize -- An iPod Touch 8GB perfectly suited to using on her wireless network with Traveler.

Abby is a Lotus Principal CLP from the United States and was most gracious and excited to win the prize. Her smile made our day too.