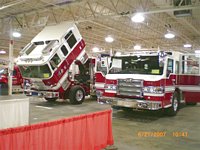 Second Signal made its trade show debut in Springfield, MA last weekend. It was a lot of work, but a great time.
I drove down on Wednesday with my car fully loaded with all the stuff I needed. Thursday was move in day, and by getting there by 8am I was able to drive right up to the location of my booth and save a lot of hauling. I spent Thursday setting up and getting ready, only to discover I'd left one of my signs at home. I called and had Ari fill out a fed-ex slip and the sign was to my booth by 8am the next day.

Each day I was there by 8:30 for a 9:30 opening, and talked to people until the 4pm close. I had a cooler for drinks, and by some miracle of nature that I'll never understand I did not need to leave the booth during that time. I'd learned from the small show (in a local gym) that I'd done not to talk about software or technology but rather to focus on what it does. As a result, I did not have a monitor or computer on the table at all. I did have the slideshow on the projector, but even that was run from USB. I had 3 phones on the table, connected to an Asterisk PBX under the table with example calls for people to listen to.

It went well I think, and I had a lot of good conversations with several chiefs and many other firefighters. I won't know how it really did until a weeks have past.