Behind me as I sit at my desk, there currently sits an Apple eMac G4. It has only one purpose - testing web pages with a real copy of Safari running on OSX. I realize there's a Safari for Windows now, but I don't trust it to always give me the same results. What I really hate most about it is the size of the thing. I never should have gotten one with a built in screen, but all I can say is that it seemed like a good idea at the time. That was a few years ago.

I've wanted to run OSX in a VMWARE session for a long time. It removes the need to have this bulky thing taking up desk space behind me, and gives me a perfectly valid and portable way to test. Every once in a while I did some searching to see what work has been done to get this to run and until recently hadn't been too impressed. Until now.

This weekend - between running out with fire calls pretty much constantly (more on that later) - I followed the instructions at the OSX86 Project's wiki. That got me about 90% of the way there. Between reading the comments there and doing a lot of experimenting and troubleshooting on my own -- primarily on the networking -- I've managed to get it to work nicely.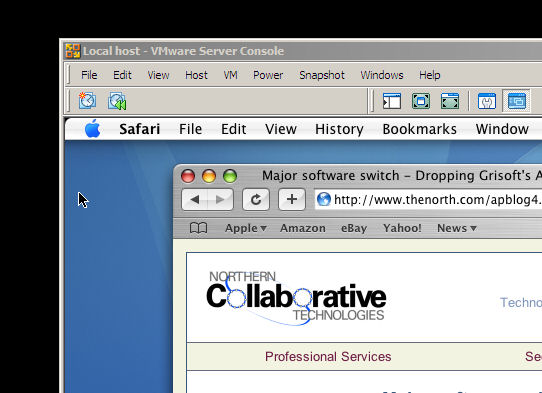 As it stands, I have pretty much full function except sound. Some have reportedly gotten sound working as well, but on this PC I have a cheapo sound card and haven't gone down the path of trying to get OSX to use it yet. The screen shot there shows VMWARE Server (free) running OSX 10.4.8 and within that, Safari viewing my blog.

Sweet.

Now, if you're a real Mac fan-boy you'd hate running this way. Performance is poor as you'd expect and of course the idea of running OSX inside Windows is likely to be blasphemous to you. It does, however, give me a perfectly valid test client for what I need so I'm quite happy with it.