In Domino Designer 8.5 Beta 1, you may have seen this dialog box when attempting to view the design of a database: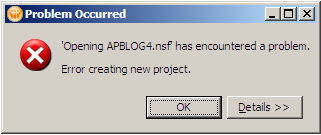 The "Project" it is referencing is an Eclipse project that is part of the Eclipse workspace. Your NSF database is being presented to the Eclipse framework as a project. The problem appears to be the result of already having a project with the same name. This happens if you already have used Designer in Eclipse to look at the design of a database with the same name on another server.

To resolve it, right click on the database entry in the database browser part of eclipse (the far left side) and select "Delete" to remove it from your Eclipse browser. You'll be given the option of deleting the file on disk as well, but don't do that!

I'm quite sure this issue will go away when the next code drop comes out.