When I'm speaking at conferences, I try to put plenty of screen shots in the presentation. I do this so you can take my presentations and print them out to work with as guides. The tool I use for taking screen shots is "MWSnap".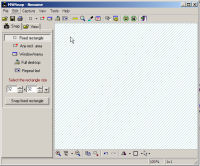 There are a lot of tools out there to do this, and MWSnap is not the most full featured -- though it is feature rich to be sure. What it has going for it above every other program I've tried is that it is totally unobtrusive. I've set my hot key to CTRL-ALT-A, and when I hit that combo A cross hair cursor comes up over whatever else is on screen. I move that crosshair to one corner of what I want to grab, then click and drag to the opposite corner, drawing a selection box. The whole time a small preview box shows me what I'm capturing.

Once I click again, the box is instantly copied to the clipboard. Mine is configured to just copy it to the clipboard and be done. You can set it to do much more. MWSnap can pop up its own image editor, it can save the file automatically to a specified folder -- giving it a sequentially numbered name, or a bunch of other things. Usually for me once its in the clipboard I drop it into another tool to obscure parts of the text or refine the size.

One feature I really like, is that in its little editor you can add back in a cursor of whatever kind you want, right onto the image. Think about that for a second. You often want your screen shot to include the cursor, but the capture software requires that you move the darn thing.

MWSnap has proven to be reliable, have a very small footprint, be totally unobtrusive, and just overall fall into that wonderful category of things that "Just Work".