So Saturday wasn't spent on Lotus Domino much at all. After getting in at 2am from London and sleeping till 8, we had a minor call around 11am and then while I was raking leaves at around 2:30pm we had a call come in for a structure fire.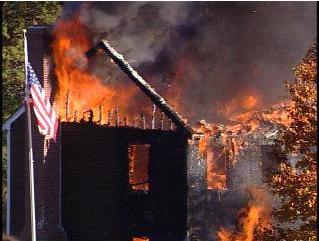 The fire, on the part of town we call the "Foreside" was a really fast mover. We pulled in and the second floor was already heavily involved. By the time I had the truck set up and a pack on to go in we heard on the radio that the roof had self-vented (burned through so that the smoke and heat had a way out). From there it wasn't long before fire had ripped through most of the house. Once you have heavy fire with air coming in from the downstairs and heat venting out through the top, you've created a chimney effect and the fire will really rock and roll like a blast furnace. Add the 20 mile and hour winds and you can imagine the result. If you can't, try the links here:

http://www.wcsh6.com/news/local/story.aspx?storyid=95228&catid=2

http://www.wgme.com/News/story_video/playFlashVideo.shtml?wgme/flipfactory/WGME_newse


Fortunately, nobody was hurt.