XPages provides a really natural way to create tabbed interfaces for web applications. You drop a tab control onto the XPage, then drop a custom control (remember, that's just another XPage built to be use-case specific) onto the various tabs. My application has four interrelated forms so it makes perfect sense to create a custom control for each as well as a custom control representing the access method for each (e.g. for those with multiple documents, a control which displays them in a view or a fancier "repeat" interface). Dropping these onto a tabbed interface produces a pretty slick AJAX-esque web site very quickly.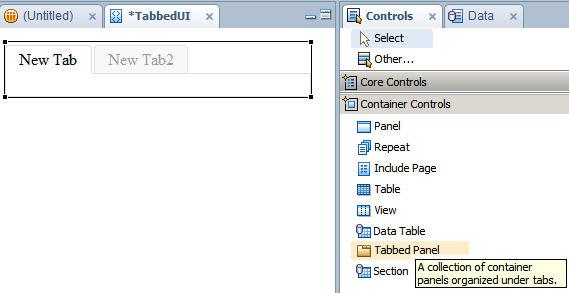 Given that most of the demos use this tabbed methodology, and the controls being already there -- and even a fairly good base style sheet and theme -- will all the XPage implementations look alike for a while? Are tabs a solid web UI design choice?

One of my goals today is to understand how well I can meet the common requirement of producing exactly the layout of web page that I've been given as HTML (or sometimes even just as an Illustrator print that I have to use HTML and CSS to create) and not lose any of the power XPages has. That's going to mean a lot of embedding html and css source that didn't come from Domino Designer.

The code generated by that same tabbed table from the first picture is shown in the second. You can manually modify this and even insert XHTML as needed. The key will be just how much you can do yourself before the page generator can't cope any more. I'll be playing with this, but my guess is Nathan will really be pushing those limits first.