New Snow

Fourteen inches of new powdery snow fell Monday. That was enough to cancel school, giving us a three day weekend. More snow is expected on Friday but I should be fine getting out on Thursday afternoon in time to pick the shirts up in Orlando on Friday. I've scheduled the flight early enough that in a worst-case situation (like last February where Jet-Blue abandoned Portland, Maine for over a week due to the storm in New York) I can drive. It's about 21 hours straight driving, so I'd sure like to avoid that.

New Paint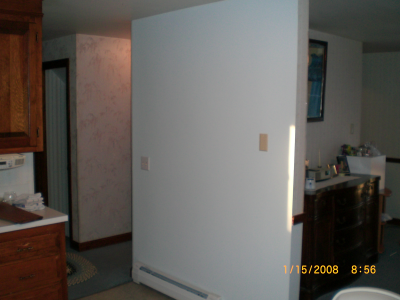 The weekend did give me a chance to finish the big jobs I'd started last weekend. That involved the repair of two walls. The one upstairs was easy. Just a simple drywall patch. The other was a bigger problem. I'd tripped over something (probably soccer related) and put a forehead height hole in the wall. Unfortunately, the wall had been wallpapered twenty plus years ago when it was new. Not only is the wallpaper not replaceable, it had been put up without primer. Taking it down pretty much destroyed the wall.

It took me a few hours working with it to get the hang of using joint compound, but the advice I'd been given was dead on -- the result of using the contractor grade compound (aka "mud") was far better than using any of the packaged pre-mix stuff I'd tried in the past. Several coats of mud and a good bit of sanding later and the wall looks as good as any in the house. Figuring my time would make this one of the most expensive repair projects ever, but at least now I know how to do it fairly well. I tried a new paint from Sherwin Williams called "Duration", and was pretty impressed. It covered very well and was easy to work with. Caitlin's room got a really nice yellow that she picked out. Its about the cheeriest yellow I've ever seen. The kitchen wall got a much more boring very light blue.

New Lotusphere

I can't recall having been this excited to go to a Lotusphere in many years. The split "OGS/Salon" sounds good -- though I'll be a little disappointed if I'm not in the first OGS, the Salon sounds like it will have some interesting speakers with an industry perspective that is worth hearing. I've also got a few things to learn this time around. The product has grown fast and I've been too busy to keep up with all of it. On top of that, all the receptions and parties going on have me busy well into all the nights.

I have one resolution for this year's Lotusphere -- to participate more than ever before.