I got a preview yesterday of IBM's new Project Atlantic. Since I don't do much SAP integration myself, I expected another hour or so of slow, painful, death by slideware. Boy was I wrong. I'm still working out just what was disclosed under NDA and what was public information, so I'm going to post impressions here, and ask you to follow the links for details and to see a Project Atlantic live demo.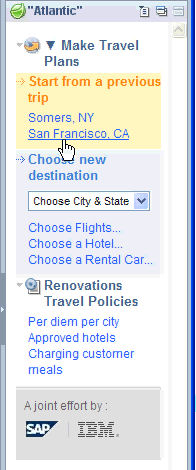 Here's what made such a great impact on me:

1. It's a real integration, not a database driver. IBM and SAP have worked together to create an interface on the SAP side that's easily called from a bit of software that sits next to Domino and works with things at the higher level of workflow objects on the SAP side rather than table level integration.

2. NO PORTAL REQUIRED. When I saw how well it worked, I asked how big the truckload of required hardware was. The answer rocked me back on my heals. No Portal. No WAS. In fact in the demo I saw the only software required that wasn't on the SAP server was sitting on the same server as Domino - and only on ONE of those. This is actually an extremely lightweight solution. Christian Holsing and his team have used an architecture that fully respects the classical Lotus Notes product and the way things have been done on our favorite platform for years. They've take advantage of the power of the Domino architecture to its fullest, providing a full set of tools to extend what they've done.

3. The Notes Client & Designer are FULLY respected. Once the workflow object is brought over to the Domino infrastructure, absolutely every thing that's been done to route, manage, display, and otherwise implement the solution is exposed and available to a Domino developer with tools in Designer. That means you can change it, extend it, replace it, add to it, and integrate with it.

This is going to stop many migrations in their tracks

Any site where both Notes and SAP are being used that is considering or even has started a migration to Microsoft Exchange is going to think again. I believe a great many are going to stop those plans cold. Further, I think a great many sites that are heavy SAP users and currently using Exchange are going to at least open the door again to a competitive challenge by Notes. I doubt its enough to instantly cause them to switch if they're committed to Exchange, but it is going to be enough to get the door open for that competitive process to start. Some sites will be won over.

XPages is going to excite Domino developers as they begin to understand what it means. That's great. Atlantic, however, is going to excite a different audience and one with a lot of influence. The business decision makers and the top level I.T. integration people. Domino developers will love it because they'll be able to build really good integration into their applications with 1/100th of the effort.

This is good stuff. It respects the platform, its lightweight, its real integration. Oh, and it works -- unlike Microsoft's offering in this space.