According to this article, Microsoft has patented a software and biofeedback based "Frustration Detection System". From TFA:
"if the system monitors certain behaviors tied to frustration (such as elevated heart rate), then it triggers the routine that asks other users for help. Physical responses aren't the only things that could trigger this event—taking an abnormally long time to complete a task would do so also—but the biometric aspect is certainly the most unusual."
The article doesn't seem to indicate that Microsoft is planning to build it into the operating system right away, so I thought I'd offer them a User Interface that might work......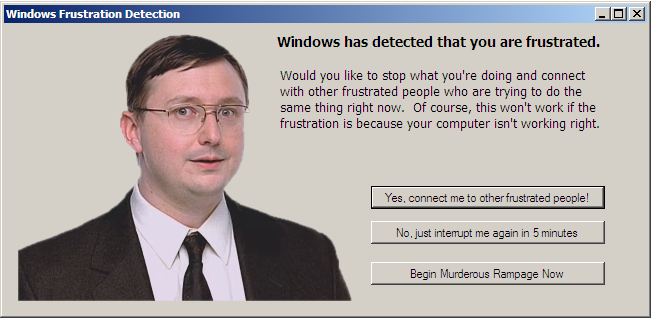 I can't imagine anything more annoying then my PC waiting for me to get frustrated, then at just the point where I'm ready to toss it against the wall it interrupts me with a modal dialog box!