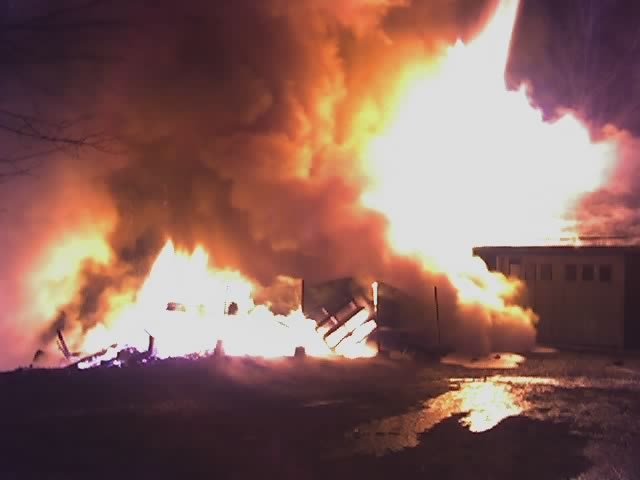 This is a picture from the fire on Tuesday (last). This is the earliest I can find, and even here it shows the structure already collapsed. It was a 3 story wood frame structure with a wood shop, a garage, and an apartment in it. Although we lost the building itself (obviously it was fully involved before we got there) we did protect the house it was a few feet away from. The family never lost a night in their own home.

On Monday (yesterday) Falmouth had a garage fire that went up in a similar way -- though for different reasons. I went with Cumberland's Ladder 7 and got to play inside a bit. A vent had already been cut when I went in so it wasn't as hot as it could have been, but there was still some good fire to play with. That structure is still standing, though I doubt there's anything worth salvaging at this point. The way the structure went up Falmouth really didn't have a chance to stop it before so much damage had been done it will likely be demolished.

While I spent pretty much all day Monday at that fire -- and then at Falmouth's fire station -- Second Signal has been getting a lot of attention. The first paying customer is committed, and a group of six departments which make up a mutual aid association are giving it serious consideration already. At that point, the system would be profitable for the first time. That's pretty good for something only officially launched on Friday.

I'm very excited.