Well, not really a Domino related post, but I've wondered for a while now why it seems that gas prices go up faster than they come down. It took a few minutes to search out some real statistical data, and I put this chart together. It shows the percent change in price for a barrel of US Oil and the average consumer price of a gallon of unleaded gasoline for the US. The dates are close, and both are weekly, but they're not on the same day. Still, the trend analysis works fairly well.

The charge tells the story. While in general over time the price of gasoline follows the price of oil, for much of the last three years that has not always been the case with any real level of accuracy. Gasoline prices have rocketed up almost as some kind of logarithmic function of oil prices when you compare percentage of change, and had to fall precipitously to realign recently. What I mean is, a small jump in oil seems to equal a much larger jump in gasoline prices.

This is particularly disturbing if you consider that a barrel of oil is 42 gallons, and accounts for 19.5 gallons of gasoline after production (source: DOE: Ask a Scientist). Maybe I'll update this data to represent that. Basically, if you level the change in cost of oil by about half on this chart, that's what you'd see in terms of the cost per the amount of oil in each gallon. It would also show how little the oil price is a percentage of the cost of a gallon of gas.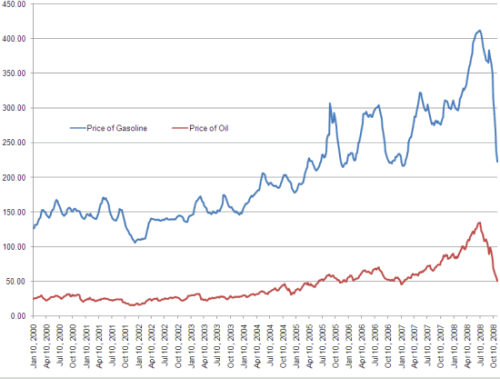 Sources: US Government: Energy Information Administration
Weekly Retail Gasoline and Diesel Prices
Weekly United States Spot Price FOB Weighted by Estimated Import Volume (Dollars per Barrel)

I'm not sure if it means much, but it held my interest long enough to work it out. As you plan for Lotusphere, consider these numbers and imagine how they impact the flight, car, and shipping you'll be paying to send this stuff to Lotus in Orlando.