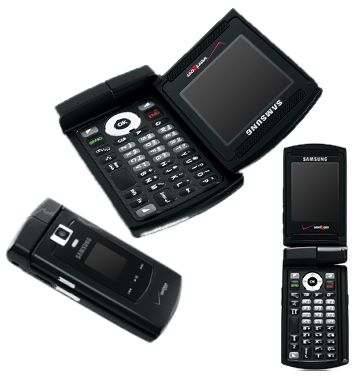 After a crazy amount of looking, I've settled on a phone. The Samsung SCH-u740. This is a fairly new entry to Verizon's stable and so far I'm pretty impressed. It flips open like any other clamshell, but also flips open sideways like a text pager. In this "rotated" mode, you have a full QWERTY keyboard for text entry.

This isn't the only phone with a QWERTY keyboard, but it is one of the smallest form factors I've seen with it. The phone is small and thin like a RAZR so its easy to carry in your pocket but still makes it very easy to type in a text message.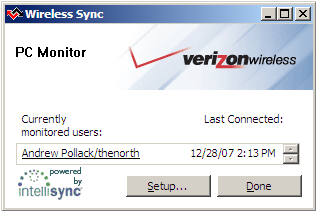 A nice surprise was Verizon's "Wireless Sync" service. They fully support Lotus Notes clients and Domino servers -- even asking during installation if I'm an iNotes user, the location of my ID file and personal address book, and the name of my Domino server. I was very impressed, as it installed and ran perfectly without a single problem in my Notes 8 client configuration. The set up even let me specify criteria on which inbox messages to trigger "push" synchronization on and which not. Wireless sync also supports Exchange, IMAP, and POP3 accounts. I've set up my primary Notes mail, calendar, and address book as well as an IMAP account for my Second Signal mail. Very nice. The logo on it says its using Intellisync for its smarts.

What's Good:

Very small form factor, easily fits in my pocket
Easy to read screen
External buttons resist accidental settings changes nicely
Keyboard is small but effective
Sound quality is good
What's Not as Good
Verizon's "Get it Now" menus are not as good as on the e815, they seem to be more intrusive and annoying.
Creating ringtones is tricky. They clearly want you to download (and pay) for them. You CAN send MP3's to your phone by MMS message (##########@vzwpix.com) and then save as ringtone, but oddly you can't just write them to the transflash from your PC like you can with music files.


* Update: I may change my tune on this. I just saw that outside of Verzon (but linked), Samsung has a whole site devoted to this phone, and offers a free "PC Studio" download that manages it over USB or BLUETOOTH.



The charging port and headphone jack are, of course, proprietary.
Overall, this phone makes a very nice solution for me until RIM comes up with a Blackberry in a similar form factor with a decent browser, Apple starts selling the Jesus Phone through Verizon, or LG figures out how to make a phone that doesn't deserve to hide in shame when compared with the Apple product.
In short, until I can get a REALLY GOOD smart phone, I'll stick to this. I may just have to write a BREW application that does SSH -- at which point my life would be complete (as far as phones go).