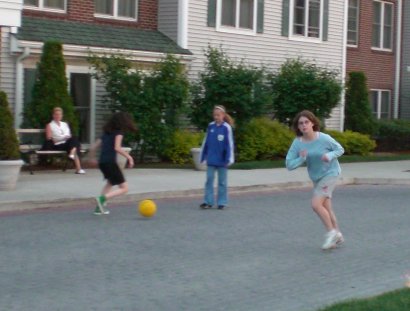 You know you love the game when you love the game so much that after two of the toughest games you've ever played, playing hurt on the hottest, muggiest day so far this year, you come back to the hotel for a quick swim and then more soccer out in the parking lot with your team.
Ari is playing center forward on a "Premier" level soccer team now, a position she'd never attempted prior to last fall. Her Maine Metro Football Club team entered a tournament this weekend. Tournaments break down into divisions. Ari's team is playing in division 1, which is the top of the food chain.

Maine teams don't generally do well in out of state tournaments. We just don't have the population base. Ari's team is part of MMFC, one of 5 premier soccer clubs that draw from the "greater Portland" area of Maine and have teams at the U12 age group. U12 is the first age group for MMFC and without a feeder program they start out the year as a brand new team. The best part of that is that it gives a kid like Ari who's just got one season of competitive ball under her wing with the town travel league a chance to move up into Premier. The downside, is that they had to work hard to get 14 girls on a rouster while most teams are cutting to make the 18 person limit that state registries. I've heard rumors of teams in Virginia where 800 kids try out for those 18 spots, and when a spot opens they advertise in the paper for "A left side full back" position and get hundreds of tryouts. Remember, we're talking about U12 Girls.

So here comes this team of kids from Maine down to Nashua to play soccer. They've been a team since December, but several players didn't start with them until this spring. They're from small tows as many as 30 miles from each other. Ari didn't know a single one of them before December. They didn't get to play or even practice outside until March. They've played maybe 10 games total and hold the wildcard spot going into the playoffs for the State Cup next week. Oh, and its 85 degrees and humid after a cold, rainy spring. They've never played in weather over 60.

Their first game was played against "Nashoba United" from Nashoba, Mass. These girls have played together since age 7. They all go to school together and play on their lunch break. The took our kids to school. For the first half. Hell, I learned a few things watching. So did our girls. The went into the second half overheated, frustrated, and down 3-0. The still lost the game, but ended the game at 3-0. It took everything they had, but they held NU to those first three points.

3 hours later at a field about 5 miles away came game two. This is against a team from New York. Another one with a full rouster -- and thus a deep bench. This game also came with a ref that had a "let them play" attitude. To say this game was a bit rough is an understatement. Ari is a big, strong, solid kid. She's also just finding her space on the field in this new forward position. She, and the rest of her team came out to play this afternoon and did the teaching this time around. The final score was 4-1, with Metro leading 4-0 until the last 30 seconds when NY scored on a penalty kick. Ari had some awesome plays in the game including a couple of fast breaks down on offense, literally running away with the ball all the way up the field to create the scoring opportunity.

Ari took a punch (literally, a back hand with a closed fist) to the glasses just before the end of the second half and had to be helped off the field. Some quick repair and an ice pack during the half and she was back later. The offending girl was last seen laying flat after a completely coincidental second collision with Ari later in the game. She's also got a golf ball sized welt on her right leg just above the knee where one lovely NY girl put a cleat during that second game (resulting in nothing, since Ari kept enough of a handle the ball while getting up that she took it back and passed it up). In a strange twist of fate, the girl with the interesting aim also met with an accident later.

Ari took home the sacred jersey indicating that she'd been declared "Man of the Match" by her coach and team. A first for her. Its a tradition her coach brought forward from his own coach on the teams he's played for (their coach played for USM and still plays on a men's league in town).

She's in bed now, resting up for tomorrow's game, after which we find out if we make the tournament finals on Monday. Tomorrow will be tough.